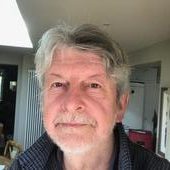 I trained as an mechanical design enginner working in several different area of industry ranging from filtration, effluent treatment to Intermediate Bulk Container sytems in powder handling technology for the food and Pharmaceutical industry. I then joined Penny in her Beam renovation buisness.
My artistic career started when I was about 16 with illustration, cartoons and work for mechanical engineering instruction manuals
Working Method
Over the past 50 – 60 years I have experimented with various media, pencil, pastel, felt pens etc but I did not come across acrylic ink until 10 years ago. It then took me approx 3 years to develope my own techique of using ink the wet on wet on both canvas board and stretched canvases. I am still developing variations of my use of the inks and other materials.